Press Release – #stopthedrop
For immediate release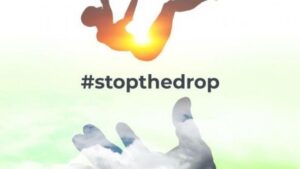 Horsham and Crawley Counselling Group's #stopthedrop campaign bags over £1,000 from Tesco's community grant scheme
Horsham and Crawley Counselling Group CIC has successfully secured funding of over £1,000 with the help of Tesco customers to support their #stopthedrop campaign. This campaign was aimed at ensuring clients could remain in counselling and avoid leaving due to financial pressure from the cost of living crisis.
Rachel Gardiner-Hill, Lead Director, commented 'We were acutely aware of the impact of the cost of living crisis on our clients – meaning that understandably, they no longer felt able to prioritise looking after their mental health and wellbeing or that of their children.
We are extremely grateful to the customers of Tesco who nominated us for this award.  This money will allow more clients to stay with us.  Looking after our local residents and their families mental health during this difficult time remains our top priority.'
'Together with our recent successful crowdfunding appeal which raised over £3,000 we are now able to extend the support to our existing clients via our Hardship Fund so that they continue to benefit from working with our dedicated team.'
Claire de Silva, Tesco's Head of Community, added: "Tesco Community Grants help support local good causes like Horsham and Crawley Counselling Group and especially those projects supporting young people, those providing food, and local causes close to our colleagues' hearts."
Tesco Community Grants is run in partnership with community charity Groundwork, who has awarded grants to thousands of local community projects every year.
Tesco's Community Grants scheme – previously Tesco Bags of Help – has already provided over £100 million to more than 50,000 projects across Britain.
Groundwork's National Chief Executive, Graham Duxbury, said: "Tesco Community Grants continues to give local projects the boost they need to help their communities thrive. We are pleased to have been able to help so many local good causes over the years and look forward to seeing what community organisations can achieve in the future with the right resources."
Funding is available to community groups and charities looking to fund local projects that bring benefits to communities. To find out more visit https://www.tescoplc.com/sustainability/communities/tesco-community-grants/.
Ends
Issued by Horsham and Crawley Counselling Group CIC
For further information please contact: Rachel Gardiner-Hill, Lead Director
NOTES TO EDITORS:
Horsham and Crawley Counselling Group is a Community Interest Company – we're a talking business where society profits. Based at Alphacom House in Oakhill Road, our team of dedicated counsellors have been supporting the mental health of residents and employees of Horsham, Crawley and the surrounding villages since 2015.
Our social mission is to provide long or short term affordable counselling.  We remain one of the few third sector organisation able to provide open ended counselling support.
HCCG CIC was the proud recipient of a WISE* award in 2020 for exceptional leadership in a social enterprise.
*NatWest/Pioneers Post ' Women in Social Enterprise' Award scheme