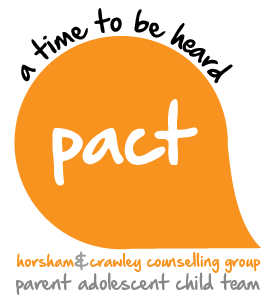 At PACT (Parent Adolcscent Child Team) we have a responsibility to keep all of your personal information safe. This page talks about how we handle your personal information.
Here we will set out how PACT uses and protects any information that you give us when you visit this website or when you contact us in other ways because the Data Protection Act 2018 and the General Data Protection Regulations ('GDPR') asks us to do this to make sure we keep your information safe.
You may visit our website freely without having to contact or use our services. We do not use cookies or Google Analytics to track your access to our website.
If you are a child or young person under the age of 16 you must have the consent of your parent, guardian or carer in order to contact us via the website or by phone, which means we cannot reply to any messages if they haven't said that we are allowed to contact you.
What we mean when we talk about 'Personal Information':
Personal information is anything that would allow us or someone else to identify you in some way, like your name or address.
Whenever you talk to a PACT counsellor, whatever you say is confidential. But there are times when we might need to tell someone. We may do this if:
you ask us to
we believe your life or someone else's life is in danger
you're being hurt by an adult or you're not safe
you're being hurt by someone in a position of trust who has access to other children like a teacher or police officer
you tell us that you're seriously harming another person.
What we mean when we use the word 'confidential':
Confidential means that whatever you talk about or do with your counsellor at PACT is private, so your counsellor will not talk to anyone else about your sessions with them. However, it's okay for you to talk to someone about what you do if you feel you want to and you trust him or her. But sometimes, if we're worried about your safety, we may need to get you help.
Why we're telling you about this:
At PACT we are committed to making sure that we protect your personal information and will ask you or your parents if you're under 16 years old for written consent to hold personal information about you. This personal information is only so we can provide counselling to you.
We may also look at the data you provide us with to make sure we are giving you the best possible support.
We hold your personal information securely and will only use it in ways that meet data protection principles from current law, the GDPR, our data protection and confidentiality policies and our ethical principles (you will find these in the British Association for Counsellors and Psychotherapists Ethical Framework for the Counselling Professions: July 2018). We are aware that this has some very adult information in it, so if you would like to know more please ask your counsellor or us. We want you to know that we take our responsibilities seriously and we will look after your personal information carefully.
What Happens When You Contact Us?
When you, your parent/s or carer/s first contact us we will make sure that you are older than 16 years old.  If you contact us yourself we will ask you, otherwise we will need to speak with your parent/s or carer/s.
We will collect the following personal information in order to make sure that PACT is the best place for you to come for counselling (or if counselling is even what you need):
Your name
Date of birth
Contact information including your email address if you are old enough to have your own
Where you live (information from your postcode)
Other information we might need so you can have counselling with us g. the name of your doctor or where they are
Information about any disability or communication difficulty you may have to help us to make sure we can communicate well with you or how we can help you use our rooms safely and without problem
A brief description of what is bringing you for counselling now and you can choose if this is something you want to tell us at this time
We will also ask you, if you are older than 16 years old or are responsible for yourself, your parent/s or carer/s about how much you or they earn to make sure that we charge them the correct amount for your assessment.
This information is collected on a paper form and then subsequently scanned and uploaded to the Cloud via an end to end encrypted transmission process to keep it secure.
At assessment:
We gather more private and confidential clinical (this means information about how you are feeling) via Clinical Outcomes in Routine Evaluation ('CORE'). You will have been given information about CORE beforehand and we will need your written consent to do this by asking you to sign a form.
We will again ask about how much you or your parent/s or carer/s earn to make sure that we charge you or them the right and fair amount for your counselling.
During counselling:
We will write confidential and private counselling notes – your identity, (your name and surname) is protected and these notes are not shared with anyone unless a court of law asks us to do so or you ask us to share them with someone else but we can refuse to do this; although we would talk to you about it.
Personal data that identifies you and your counselling notes are held separately and securely to protect anyone from finding out who you are.
You have the right to look at these notes you just need to ask your counsellor who will help you with this, see 'Can I Look At What My Counsellor has Written?' for how to do this. However, these notes belong to PACT and not to you.
Only your counsellor and the Clinical Directors (in exceptional circumstances) can look at your notes and this would be to protect you or your counsellor.
Can I Look At What the My Counsellor has Written?
Yes, you can ask for a copy of any personal information, and any notes we have made about you and we must get this back to you within a month of you asking.
Can I have a copy of my records?
We can give you copies of the information we have. You, your parents or carer/s can write and ask us for them. We will give them to you within a month.
Contacting PACT is confidential. This means we can only release records and personal details if we know that it is you. We will need to check that the details you have given us match with the information we already hold for you, so if you have moved we may need some other proof that you are who you say you are, such as a passport or driving licence if you are old enough to have one of these. If your counselling has ended we may need to know the name of the counsellor you saw as well as a rough idea of when you saw them. We may also need to talk to you about the best and safest way to send information to you.
It's also important to think about whether requesting your records is the right decision for you, and to get support if you do decide to read your notes. Reading over the outline of the session you had with a counsellor in the past could be upsetting and might bring up things you'd rather forget.
Whenever you feel ready to ask for your records, we'll try to respond to you as soon as possible. The best way to ask for your records is to email us.  However if you are worried you can also:
phone us on:  01403 217900
write to us at: Alphacom House, 8A Oakhill Road, Horsham, West Sussex, RH13 5SB
Keeping your records and information:
You have the right to see the information we hold about you and to amend or ask us to delete any information that may not be accurate or correct. We will not hold your data for longer than we need and we follow best practice and legal guidance. If you wish to know how long we hold data or notes for please contact us.
By visiting our website you are agreeing to the contents of this Privacy Notice.
For the purpose of the Data Protection Act 2018 and the GDPR, the data controller is Horsham & Crawley Counselling Group CIC, Alphacom House, 8a Oakhill Road, Horsham, West Sussex RH13 5SB.  If you have any questions please contact the Data Protection Officer by email to [email protected]
Other Information:
We also use our database to collect anonymous statistical information to help us improve the counselling we provide at PACT. We might share this to help people understand what young people are saying. For example, to say how many young people are contacting us about bullying.
Sometimes we may ask you to fill in questionnaires or surveys for us. Our Surveys or Feedback Forms let us look at the counselling we have offered you to see what has gone well as well as things that may not have worked so well. Our surveys are normally anonymous, but if you share anything that might make us worried about your safety we may need to tell someone.
How We Store Your Information:
At PACT we will do everything we can to make sure that your personal data is kept safe. We make sure that your personal information is held in a different place to the notes your counsellor keeps. We also keep brief counselling notes without a lot of detail to protect you and to make sure they have a record of generally what was talked about but without a lot of detail.
The data that we collect from you is not transferred outside the European Economic Area ("EEA").
All information you provide to us is stored securely and information held on computer is held on our secure servers. Any payment transactions via your bank, or that of your parent/s or carer/s will only be identified by a client reference number, to give no link to your identity and no other information will be required or shared.
PACT is committed to making sure your information is secure and safe. We take steps to prevent anyone who shouldn't gain access to your data.
Links to Other Websites:
Our website has links to other sites that PACT or HCCG doesn't own or manage. We do our best to make sure these links are safe but we cannot control how the sites collect information or what they do with it. Because of that we want you to know that we can't be held responsible for these websites, so if you're not sure what data a site collects you can read its privacy policy to find out.
Unfortunately, sending information via the internet cannot be completely secure. We have in place security measures to protect your personal data, but we cannot guarantee the security of your data sent to our site, particularly by email.  If you send us any data it is at your own risk.  Once we have received your information, we will use our own policies and procedures as far as is reasonably possible to prevent anyone who shouldn't have access seeing it.
Controlling your personal information:
Sometimes in exceptional, (really unusual), circumstances we may be required by law and our ethical responsibilities to break our confidentiality with you.
We would discuss this with you first wherever possible but if you do not give consent (say that we can), we may still have to tell someone the information.
This could be because it relates to where you might be at risk of harm, causing harm to somebody else others, when we have to safeguard children, young people and adults at risk.
Other situations where we might break confidentiality are where we are required by law to this includes possible acts of terrorism and unreported road traffic accidents
Contacting Us:
Any queries, comments and requests about this privacy notice, our policies and procedures are welcomed and should be addressed to us by email to [email protected] or write to us at our address.